Hosting Linux
|
Premium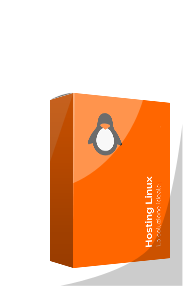 High performance and resources available.
The Hosting Linux Premium package is designed as a benchmark for websites that carry multiple daily connections and require high computing capabilities.
Your website will be placed on a powerful cloud server with at least 8 dedicated processors and 16 GB of RAM to share with a limited number of websites. Almost a dedicated server with an incredible price!
Domain registration or transfer
50 GB of web space with FTP access
10 sub-domains with dedicated FTP access
200 mailboxes with antivirus, antispam and web mail
30 MySQL database
Technical assistance
Hosting
Linux

Servers with CLOUD technology on redundant machines
High availability SAN RAID 5+1 Hard Disk Drive
Unlimited traffic
Nearly unlimited bandwidth, 1 Gbps available bandwidth (40 Mbps guaranteed)
Linux Debian 10 or higher
Apache Web Server 2 or higher
FTP for access to web space
Free FTP software included

HTTPS
certificate

The site will be navigable both as http:// and https://
TLS encryption
Key length 2048 bits

Server
Languages



PHP support
Executing PHP via FastCGI

CMS
support

WordPress
Joomla
PrestaShop
osCommerce
Drupal
phpBB
Many other supported CMS

Database
included

MySQL Server
Support MySQL.NET connectors
Microsoft Access

Email
box

1 GB of web space for your email
Antispam service
Antivirus service
Professional webmail
Access via POP3 and IMAP
Manage forward messages to another address
Manage auto responder
Easy configuration on Outlook and all other mail management programs

DNS Manager
+Nameserver

Manage nameservers
Manage DNS records A, AAAA, CNAME, MX, TXT, SPF
DNS servers with CLOUD technology on redundant machines and deployed in different data centers to ensure continuity of service even in case of emergency

Other
features

Dedicated control panel for service management
H24 service monitor
Technical assistance

Buy